Download "Dancing with the Rhythm of Change"
"Dancing with the Rhythm of Change" is a dance song written and performed by SacredFire and includes sounds and drumming from the 2012 UK Shamanic Conference.

Proceeds from the sales of this song will be donated to the UK Shamanic Conference, going towards the bursaries to help those who could not otherwise afford to participate.
In the course of our lives, we all go through phases of profound transformation. Whether grieving a loved one or a relationship, the loss of a job or material belongings; feeling betrayed by the acts of others or facing health challenges - resisting these experiences often results in constriction in our emotional & mental energy, and in dis-ease in the body.

Our song 'Dancing with the Rhythm of Change', available for download,is the expression of humans as POWERFUL beings, capable of shifting our perception with our HEART INTELLIGENCE. We invite you to Dance with the flow of what you might perceive as adversity - and to allow tension to be evacuated from your multi-dimensional self; clearing the pathways for your Divine Intuition to guide you through the motions.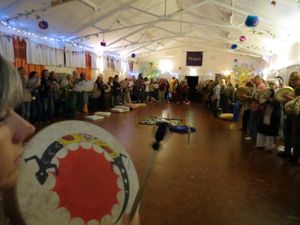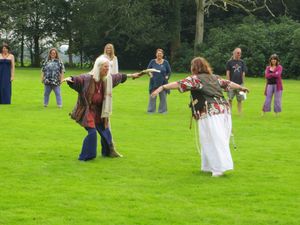 2012 UK Shamanic Conference - Gaunts House, Dorset, England

What is the UK Shamanic Conference?

Each year the conference acts as a meeting place for those interested in shamanism as a living path of spiritual wisdom. It is open to anyone - with any level of shamanic experience - and is held within a friendly sacred circle.

For more information on the UK Shamanic Conference: http://warriorintheheart.com/